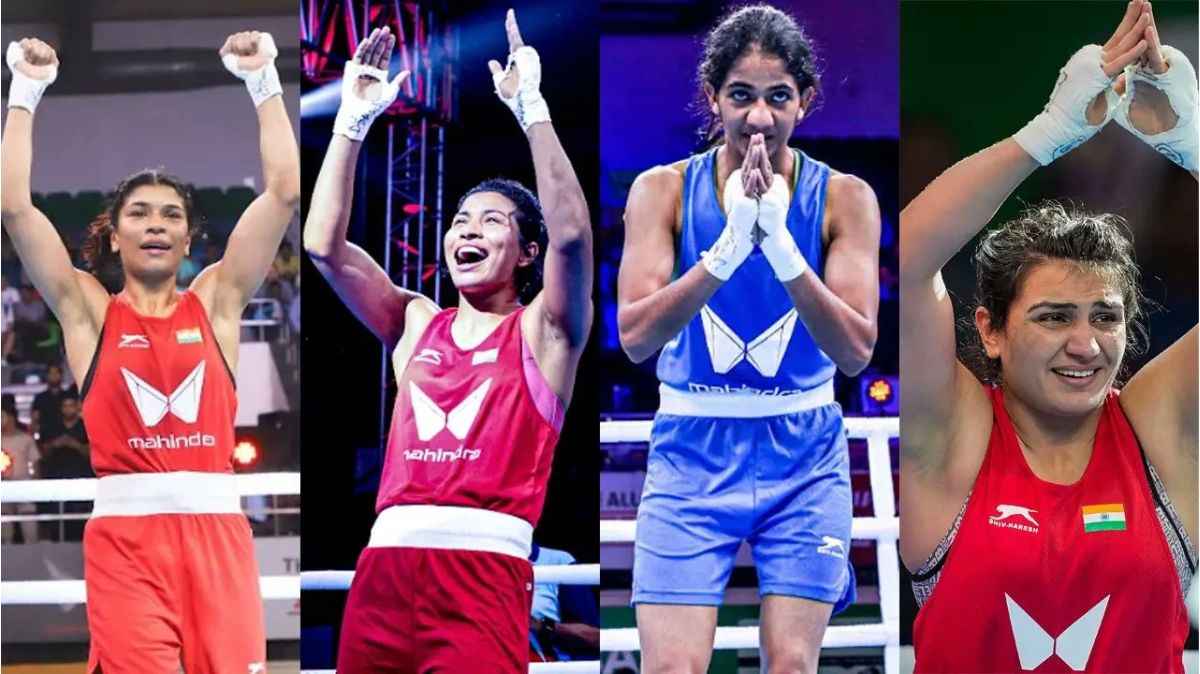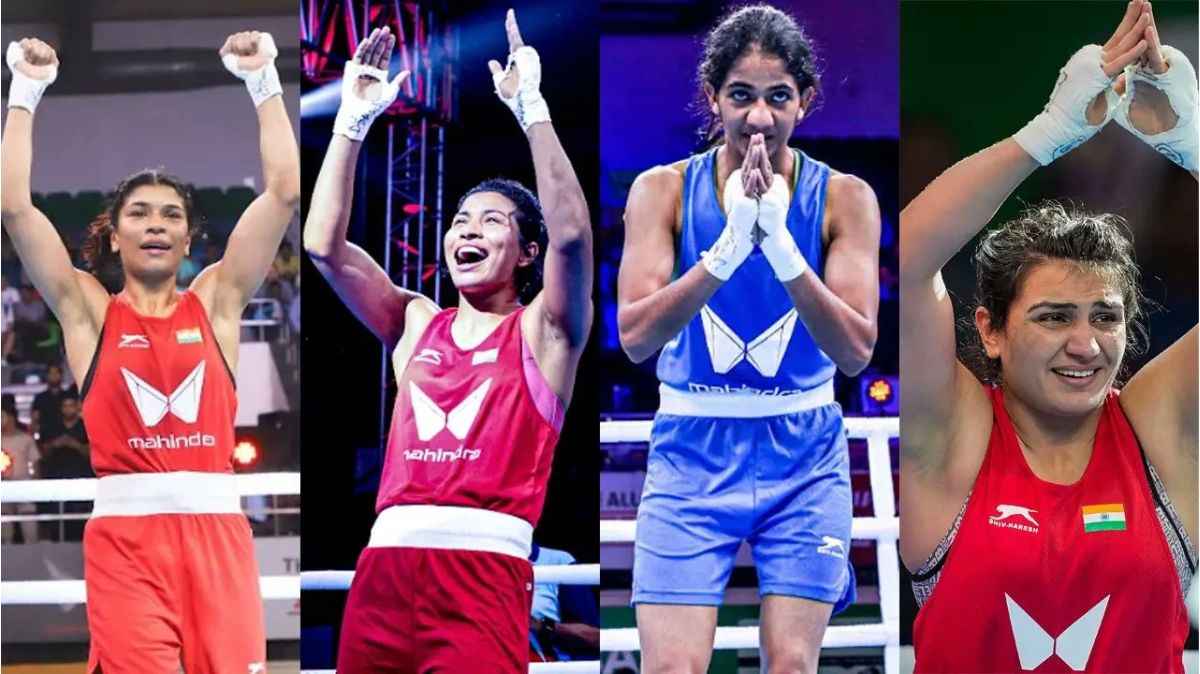 India shines at the 13th edition of the IBA Women's World Boxing Championship 2023 held in New Delhi. The competition concluded with 4 female winners who nailed to grab the gold medals in different categories. 
India's leading pugilists include Saweety Boora, Nitu Ghanghas, Nikhat Zareen and Lovlina Borgohain respectively.  They topped the show in their sessions and with this, India made the greatest victory in the history of boxing competitions. For the second time, this ground-breaking record has been achieved as the 2006 event was also a powerful performance.
Now, this time it was a roaring success for the nation in the 13th edition of the Women's World Boxing Championship 2023 organised by the International Boxing Association (IBA). The tournament was scheduled between March 15 to March 26, 2023.
Another Gold🥇 for India as @saweetyboora becomes the 7th Indian boxer to win a world championship title in the 81kg category at the IBA Women's Boxing Championships 2023!

Their success with Gold 🥇 will inspire generations. India is proud of them. pic.twitter.com/qFONUsrnnK

— Dr. Bharati Lavekar (@LavekarBharati)
March 26, 2023
Winning Streaks for India
Ace India Boxer Nitu Ghanghas becomes the first one to have been honoured with the gold medal on March 25, 2023 (Saturday). It was further followed by the rest of the three who established their names in history. Nitu is also a gold medal winner of the 2022 Commonwealth Games. 
Almost an hour after Nitu's achievements, Saweety Boora conquered another gold to India's list. India's win was extended by Nikhat Zareen along with Tokyo Olympic bronze medallist Lovlina who also fetched gold medals in their respective rounds. Additionally, all these professionals have been bestowed with cash prizes worth Rs 82.7 lakhs ($100,000) each for becoming World Champions.
India's 'Fab Four' at World Boxing Competition 2023
Our 𝗳𝗶𝗿𝘀𝘁 World Champion! 🏆🥊 pic.twitter.com/7N7VFO3l80

— IBA (@IBA_Boxing)
March 25, 2023
Nitu Ghanghas – 48 kg Category
Commonwealth Games Winner Nitu Ghanghas got the first gold medal for India at the World Boxing Tournament. She secured the top position after striking Mongolia's Lutsaikhan Altantsetseg in the 45-48 kg category finals. Nitu began the opening round and kept her upper-hand attack throughout the initial 3 minutes.
Knockout performance 🇮🇳🥊

Kudos to Nitu Ghanghas for bagging 🥇in the Women's Boxing World Championship. Truly inspirational! pic.twitter.com/RNUkWsdRCn

— Piyush Goyal (@PiyushGoyal)
March 25, 2023
Altantsetseg is a two-time Asian Championships bronze medalist who takes back control as the action further progressed. However, Nitu maintained her posture to seal a dominating win over the Mongolian boxer.
Saweety Boora – 81 kg Category
Saweety won the gold medal in the 75-81 kg category in the final match performed against China's Wang Lina. Saweety wins gold by a split decision of 4-3. She made it to the silver medal 9 years ago and this time this 30-year-old hailing from Haryana made complete efforts to win the gold.
𝗖𝗛𝗔𝗠𝗣𝗜𝗢𝗡! 🥊

Saweety Boora 🏆 pic.twitter.com/ot8HGW4zzf

— IBA (@IBA_Boxing)
March 25, 2023
While competing, Saweety faced an impressive and difficult beat against Wang but she showed her talent of high technical ability and strength in order to surpass her opponent in the closely contested bout.
Nikhat Zareen – 50 kg Category
Nikhat Zareen marked a stellar show in competence with Vietnam's Nguyen Thi Tam to win her second World Championship gold. Nikhat is a previous gold winner in the 52 kg category. This time, she got highlighted in the 48-50 kg weight category in the 2023 13th edition. Thi Tam is the first Vietnamese boxer to have attained the final level in the World Championship 2023. 
Our first 𝗥𝗨𝗟𝗘𝗥 𝗢𝗙 𝗧𝗛𝗘 𝗥𝗜𝗡𝗚 🥊

Congratulations, Nikhat Zareen 🏆 pic.twitter.com/4asS7Mu3Ye

— IBA (@IBA_Boxing)
March 26, 2023
Nikhat set forth the bout against the two-time Asian champion and at last finalised her place in the top category through her accurate punching techniques and also deploying her quick feet to counterattack. Nikhat has been a 2022 Commonwealth Games gold medallist and she once again carried on her rein throughout the finals.
Lovlina Borgohain – 75 kg Category
Newly crowned world champion Lovlina after scripting history 🗣️🔥@AjaySingh_SG l @debojo_m#itshertime #WorldChampionships #WWCHDelhi @Media_SAI @anandmahindra @IBA_Boxing @Mahindra_Auto @MahindraRise @NehaAnandBrahma @LovlinaBorgohai pic.twitter.com/iggUkRbEpz

— Boxing Federation (@BFI_official)
March 26, 2023
Tokyo Olympic bronze medalist Lovlina Borgohain marked her win over Australia's Caitlin Anne Parker by a 5-2 split. This is India's fourth and final gold at the competition. She exhibited a gallant show in the 70-75kg category. This is her first gold medal at the competition after she made a glorious show by acquiring bronze in the 2018 and 2019 editions.
𝗥𝗨𝗟𝗘𝗥 𝗢𝗙 𝗧𝗛𝗘 𝗥𝗜𝗡𝗚! 🥊

Congratulations, Lovlina Borgohain 🏆 pic.twitter.com/w4e5pqqVAo

— IBA (@IBA_Boxing)
March 26, 2023
Extremely happy to win my third medal at the World Boxing Championship. After winning two Bronze medals in a row, I am happy to convert the colour of my medal to Gold this year.

I am grateful to everyone who has been a part of this beautiful journey.

Continued…. pic.twitter.com/VTX3Efa211

— Lovlina Borgohain (@LovlinaBorgohai)
March 27, 2023
In the first round, she beat her opponent by a 3-2 margin. Ultimately, using her experience and supreme technical ability, she outpunched her opponent and add another feather to her cap with her 3rd time Worlds medal.
Also Read: India's largest Space Rocket LVM3 went off from SDSC Centre, ISRO placed 36 OneWeb Satellites