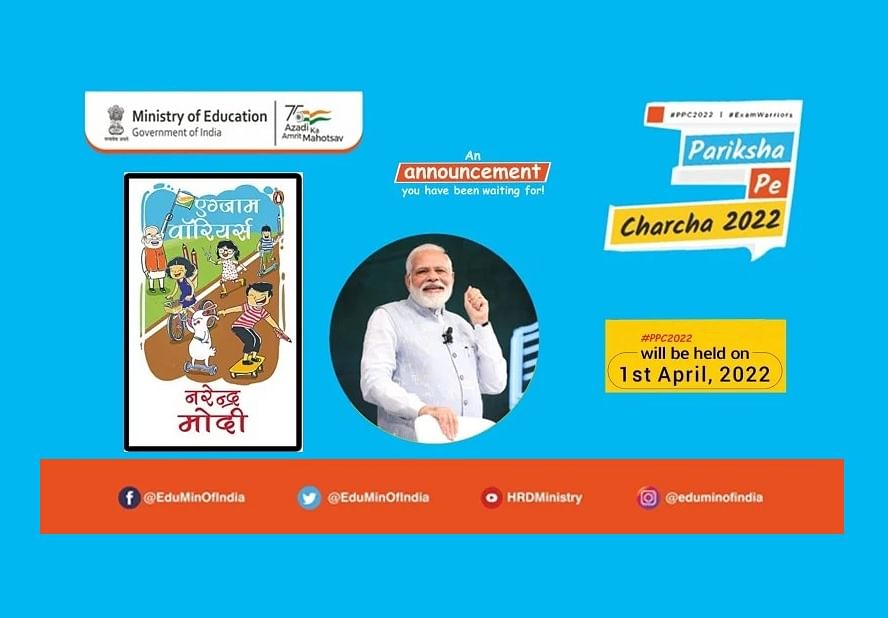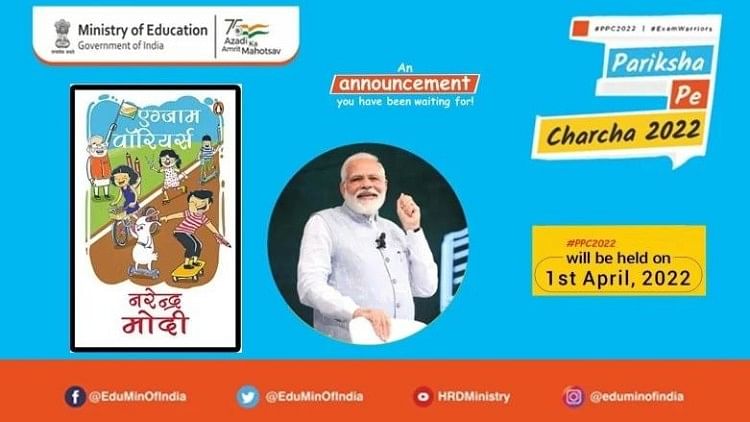 Pareeksha Pe Charcha 2022
– PC : My Result Plus
Pariksha Pe Charcha 2022: Prime Minister Narendra Modi today, on April 01, interacted with students through Pariksha Pe Charcha 2022 programme. PM Modi during his deliberation interacted with Class 9 to 12 students, their teachers and parents. The fifth edition of Pariksha Pe Charcha began at 11 am at Talkatora Stadium, Delhi in an interactive format at Town Hall and live streamed at Doordarshan, Akashvani, and various other television channels and youtube platforms.
The Pariksha Pe Charcha 2022 was inaugurated with the speech of Union Minister of Education, Dharmendra Pradhan and he also welcomed PM Modi in the programme. He congratulated PM Modi on many other achievements ranging from corona vaccination. Delivering the speech, Prime Minister told the children that he will answer the students' questions even after the time limit is over. For this, the help of text, Namo app etc. will be taken. The PM said that why should we get afraid of the exams. Go and tell the examination that I have prepared so much, I have studied so much, what will you do now?." During this, PM Modi also mentioned about his book 'Exam Warrior'.
Throughout the programme, students have asked many questions related to exam preparation, exam stress, expectations of parents and teachers, memorizing answers, concentration tips etc. Here you will get the highlights of the programme consisting some questions from students and the answer of PM Modi on it.
– In the Pariksha Pe Charcha program, the first question to PM Modi was asked by Khushi, a student of Delhi. Khushi asked how to deal with nervousness and stress during exams?
Answering the concern, PM said that exams are a natural part of life. It is a small stop. We have become exam proof while giving exams. Now the experience you got through it is your strength. My suggestion is to either live with the burden or move forward with confidence. Don't let the tension build-up. Continue living with your daily routine.
Concern of Students and Teachers Over Online Education
– Both students and teachers asked questions, PM Modi, on online education. 
Talking over it, PM said that online education is challenging. How to improve it?
Jokingly, PM asked – Do you study or watch reels when you are online? 
Prime Minister said that the blame is not online or offline. When your mind is somewhere else, you failed to focus on your education. PM said the issue is not the online or offline examination. Online education should not be considered a problem but an opportunity. The problem is not the medium but the mind is. Online is to get and offline is an opportunity. It is important to connect with yourself in life. Instead of offline-online, stay in the inner-line for some time during the day.
New Education Policy NEP 2020
PM Modi addresses New Education Policy as National Educational Policy. He said it was a record to involve so many people in the policy-making of education across the world. The draft was prepared after discussing and researching at all levels of rural, urban and students. The NEP has been implemented after taking lakhs of inputs from various people at various levels. Sports education has been made compulsory in it. Every section of the country has adopted and welcomed it.
No Special Formula for Motivation
Talking over the motivational trick, Prime Minister said there is no special formula designed for motivation. PM Modi directed students to first observe themselves which things demotivate them. Then observe which things motivate you easily. Students need to analyse themselves. Do not try to take anyone's support or sympathy. One should work with courage.
How to get rid of the problem of forgetting answers during the exam
PM Modi emphasised over the skill of focusing while studying. The greatest gift of nature is the Present. One should learn to live it. Memory is the most important thing in the extension of life. It is necessary for us to use it. Calm down your mind, take a deep breath. After this, you will feel like your focus is back.
Proper Utilisation of Time
When students asked questions about time management skills, Prime Minister Narendra Modi advised students to analyse themselves on regular basis. Whether they have utilised the time in a proper manner or not. He also Mentioned Mahatma Gandhi's statement – One should go behind what is preferable. Studying at night, studying in the morning is just a trend. The thing matters are what we are comfortable with.
Importance of Competitive Exam
Students raised concerns about whether they should focus on Board exams or Competitive exams 
Talking over the concern, PM Modi told students that if there will be no competition then what will be life about. We should invite competition in our life. It is a better way to move forward in life. You belong to that fortunate generation that has got more opportunities and resources. The earlier generation did not have this opportunity.
About Pariksha Pe Charcha PPC
Pariksha Pe Charcha is an annual event which is conducted by Prime Minister Narendra Modi and the Ministry of Education.  The programme aims to answer various questions of students, teachers and parents over the issues of exam stress, time management ahead of board exams. The Prime Minister answer various questions asked and talk about the concerns of students, teachers and parents.

Related Articles

on Current Affairs