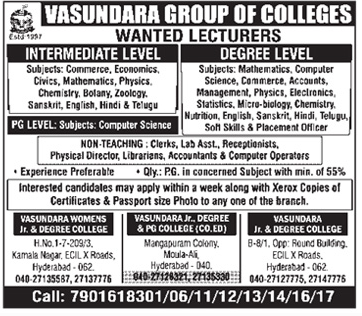 Vasundara Group of colleges, Hyderabad, Telangana wanted Lectures for various Department for the academic year 2021- 2022 . Eligible candidates can Apply through Postal 
Date Posted: 30th September 2021
Hiring Organization: Vasundara Group of colleges, Hyderabad
Organizational Profile: Established in the year 1997, Vasundara Group Of Colleges in Ecil, Hyderabad is a top player in the category Colleges in the Hyderabad. This well-known establishment acts as a one-stop destination servicing customers both local and from other parts of Hyderabad. Over the course of its journey, this business has established a firm foothold in it's industry. The belief that customer satisfaction is as important as their products and services, have helped this establishment garner a vast base of customers, which continues to grow by the day. This business employs individuals that are dedicated towards their respective roles and put in a lot of effort to achieve the common vision and larger goals of the company. In the near future, this business aims to expand its line of products and services and cater to a larger client base. In Hyderabad, this establishment occupies a prominent location in Ecil.
Job Title: 
Department:
Intermediate Level:

Commerce
Economics
Civics
Maths
Physics
Chemistry
Botany
Zoology
Sanskrit
English
Hindi
Telugu

Degree Level: 

Maths
Computer Science
Commerce
Accounts
Management
Physics
Electronics
Statistics
Microbiology
Chemistry
Nutrition
English
Sanskrit
Hindi
Telugu
Soft Skill
Placement Officer

PG Level: Computer Science
Non-Teaching- Clerk/ Lab Assist/ Receptionist/ Physical Director/ Librarian/ Accountant/ Computer Operator.
Qualification:
1.  A  Master's  degree  with  55%  marks  (or  an  equivalent  grade  in  a  point-scale wherever the grading system is followed) in a concerned/ relevant/ allied subject from an Indian University
Employment Type: Full Time
Job Location: Hyderabad, Telangana
Apply Mode: Postal
Pay Scale: As Per Norms
How to Apply: Interested candidates can send their application along with Xerox copies of certificates and passport size photograph within a week to any one of the branch
Postal Address:

Vasundara Womens Jr. and Degree College


 Kamala Nagar, Ecil X Roads, Ecil, Hyderabad – 500062,

Vasundara Jr. Degree and PG College
Mangapuram Colony, Hyderabad- 500040
Vasundara Jr. and Degree College
Ecil X Roads, Ecil, Hyderabad – 500062, 
Reference: Advertisement dated on 30th September 2021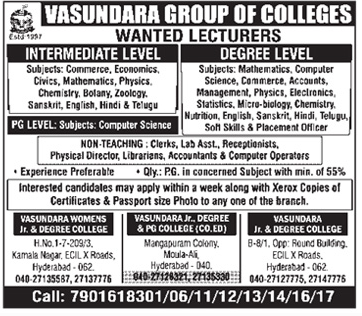 Subscribe our Telegram Channel to get all updates: Join Now!