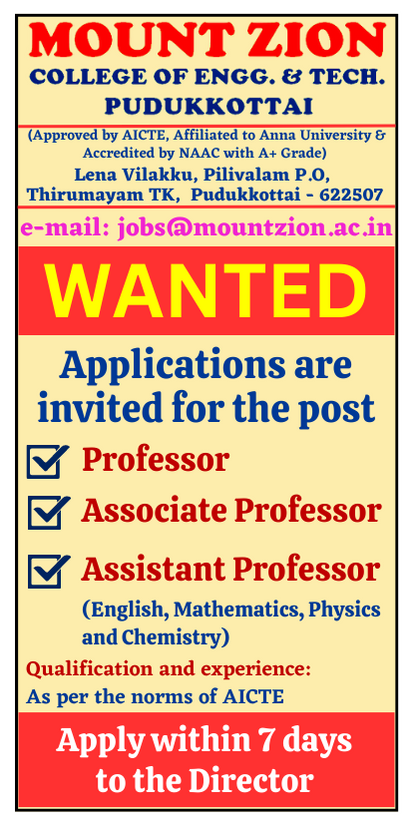 Date Posted: 26th March 2023
College Name: Mount Zion College of Engineering and Technology
About College: Genesis of Mount Zion Christian Educational Trust in 1988 paved way to fulfill the aim of providing quality education in the educationally backward district of Pudukkottai, Tamil Nadu. The Trust started a school by name "Mount Zion Matriculation Higher Secondary School" in 1988. Though a humble beginning, it has grown to be the best school in Pudukkottai District. Mount Zion College of Engineering and Technology was inaugurated in the year 2001. It is run by Mount Zion Christian Educational Trust. This trust was formed in 1988 with the sole aim of providing education in the educationally backward district of Pudukkottai. The college since its inception has grown in leaps and bounds and is currently one of the best in the region. It strives to make all those who pass through its portals into innovative, hardworking engineers who will be of use to their places of work and to the society at large. Though young, the college has great plans for the future and the management is determined to transform Mount Zion into one of the best engineering institutions in the world. Mount Zion Institutions will be the preferred choice of all those who aspire for excellence.
Job Title: Professor, Associate Professor, Assistant Professor
Departments:
Civil Engineering
Computer Science and Engineering
Electrical and Electronics Engineering
Electronics and Communication Engineering
Mechanical Engineering
Qualification and experience: As per the norms of AICTE
Job Location: Pudukkottai, Tamilnadu
Scale of Pay: As per norms
Apply Mode: Postal/Email
Website: www.mzcet.in
How to Apply: Send your resume along with copies of relevant documents and photographs to the following Email/Postal Address.
Email Address:  [email protected]
Postal Address:
The Director,
Mount Zion College of Engineering & Technology,
Lena Vilakku, Pilivalam P.O, Thirumayam Tk.,
Pudukkottai Dt – 622507, Tamil Nadu, India
Reference: Official Advertisement