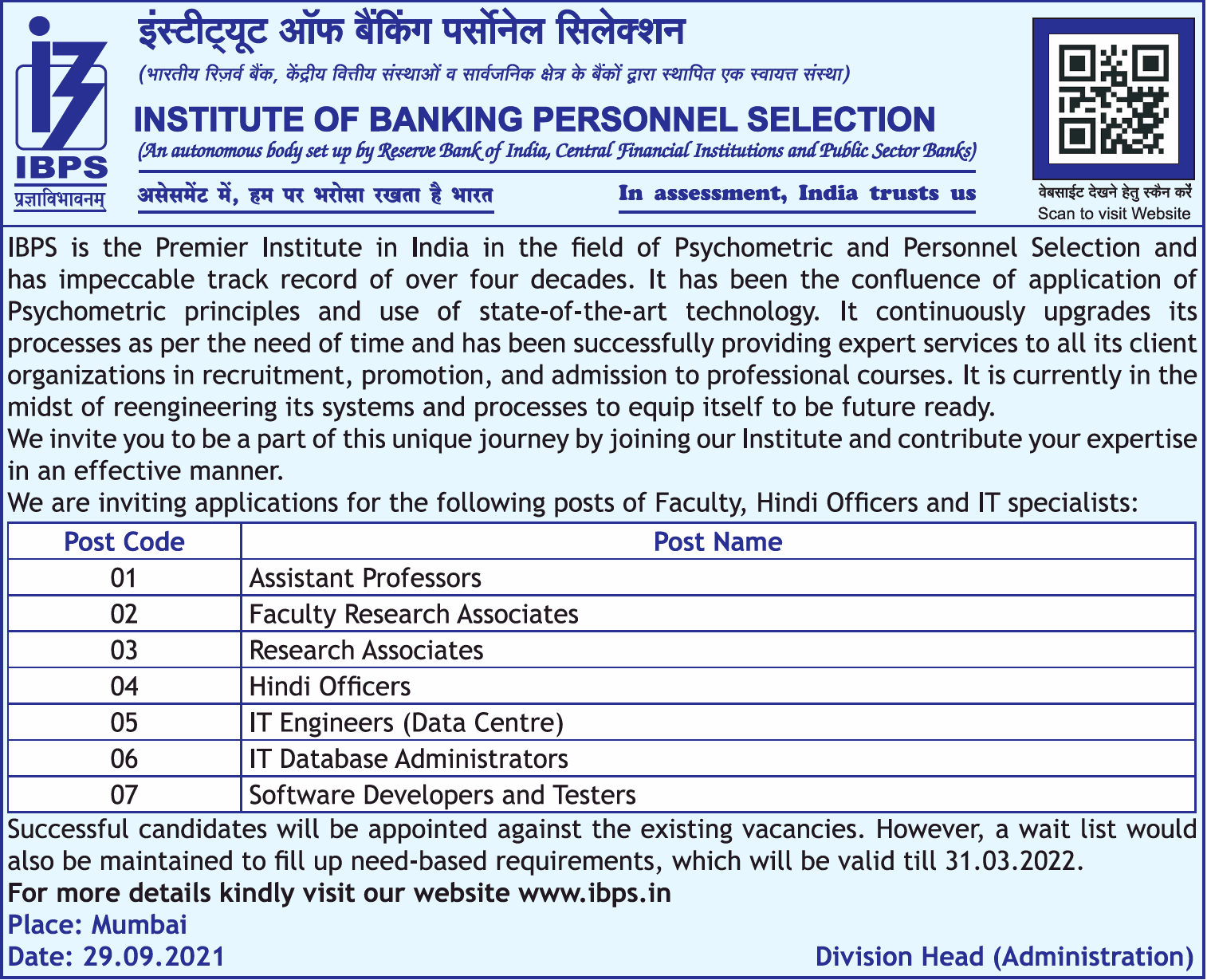 Institute of Banking Personnel Selection, Mumbai wanted Assistant Professor and Other Post for 2021 – 2022 academic year. Eligible candidates can apply through Online  
Date Posted: 29th September 2021
Institution Name: Institute of Banking Personnel Selection
Institution Profile: The Institute of Banking Personnel Selection is a recruitment body that was started with an aim to encourage the recruitment and placement of young graduates in public sector banks in India, other than the State Bank of India.
Job Title:
Assistant Professors
Faculty Research Associates
Research Associates
Hindi Officers
IT Engineers (Data Centre)
IT Database Administrators
Software Developers and Testers (Frontend, Backend)
Employment Type: Full Time
Qualification: 
Assistant Professors- A Ph.D. or equivalent degree in Statistics with at least 55%
marks in Post-graduation
Faculty Research Associates- A Ph.D. or equivalent degree in any of the following discipline with at least 55% marks in Postgraduation. Industrial Psychology / Organisational Psychology / Educational Measurement/ Psychological Measurement
/ Psychometrics / HR
Research Associates- Post-Graduation in Psychology / Education/Psychological
Measurement/Psychometrics /Management (Specialization in HR) with minimum 55%
marks from recognized universities / Institutes.
Hindi Officers- Master's degree from a recognized university in Hindi with English as a
major or elective subject at Graduation.
IT Engineers (Data Centre)- 3 years' Post Qualification work Experience in the
following areas :
-Management and monitoring of Data Centre performance parameters (Electrical/UPS,
HVAC/PAC etc.)
-Day to day DC operations using tools and Preventive checks, Temp, Cooling, Safety /
Security
-Maintenance of DC Hygiene
-Maintaining of DC operation logs
-Monitoring and alerting backup system
-Installation, upgradation, configuration and maintenance of DC network equipment,
servers and OS
– Troubleshooting and resolving hardware, software, and Layer 1 and 2 connectivity
problems
IT Database Administrators- 3 years' Post Qualification work Experience in the
following areas :
Database Administration, including DB Creation, deletion, Schema design, Metadata and similar activities especially of MS-SQL / My SQL. Knowledge of Server Virtualisation and DB Virtualisation DB Backup activity Platform – Linux /
Software Developers and Testers (Frontend, Backend)- Minimum 3 years'
Post Qualification work Experience in the following areas :
1) End to end (frontend/ backend) software development & testing experience
using one or more of followings languages /tools –HTML, CSS, Django JavaScript, Python
2) Platforms familiarity – –Linux, Windows
3) Knowledge of data handling in RDBMS — (MySQL/MS-SQL) — SQL Queries, data
upload / modification/ extraction operation
Job Location: Mumbai
Pay Scale: 
Assistant Professor  1,01,500
Faculty Research Associate  57,700
Research Associate  44,900
Hindi Officer 44,900
IT Engineer (Data Centre)  35,400
IT Database Administrator  35,400
Software Developer and Tester (Frontend, Backend)  35,400
Apply Mode: Online
Procedure for applying online:
Candidates can apply online only from 01.10.2021 to 14.10.2021 and no other mode of
application will be accepted
(1) Candidates are first required to go to the IBPS's website www.ibps.in and click on the Home Page to open the link and then click on the option "CLICK HERE TO APPLY ONLINE" to open the On-Line Application Form.
(2) Candidates will have click on "CLICK HERE FOR NEW REGISTRATION" to register their application by entering their basic information in the online application form. Use of special characters while filling the form will not be allowed. After that a provisional registration number and password will be generated by the system and displayed on the screen. Candidate should note down the Provisional registration number and password. An Email & SMS indicating the Provisional Registration number and Password will also be sent. They can reopen the saved data using Provisional registration number and password and edit the particulars, if needed.
(3) Candidates are required to upload their photograph and signature as per the specifications given in the Guidelines for Scanning and Upload of Photograph and Signature (Annexure II).
(4) Candidates are advised to carefully fill in the online application themselves as no change in any of the data filled in the online application will be possible/ entertained. Prior to submission of the online application candidates are advised to use the "SAVE AND NEXT" facility to verify the details in the online application form and modify the same if required. No change is permitted after clicking on FINAL SUBMIT Button. Visually Impaired candidates are responsible for carefully verifying/ getting the details filled in, in the online application form properly verified and ensuring that the same are correct prior to submission as no change is possible after submission.
Website: www.ibps.in/
Address: 
IBPS House, 90 Feet, D.P Road, Near Thakur Polytechnic,
Off. Western Express Highway, Kandivali (E),
Mumbai, Maharashtra 400101
Reference: Advertisement dated on 29th September 2021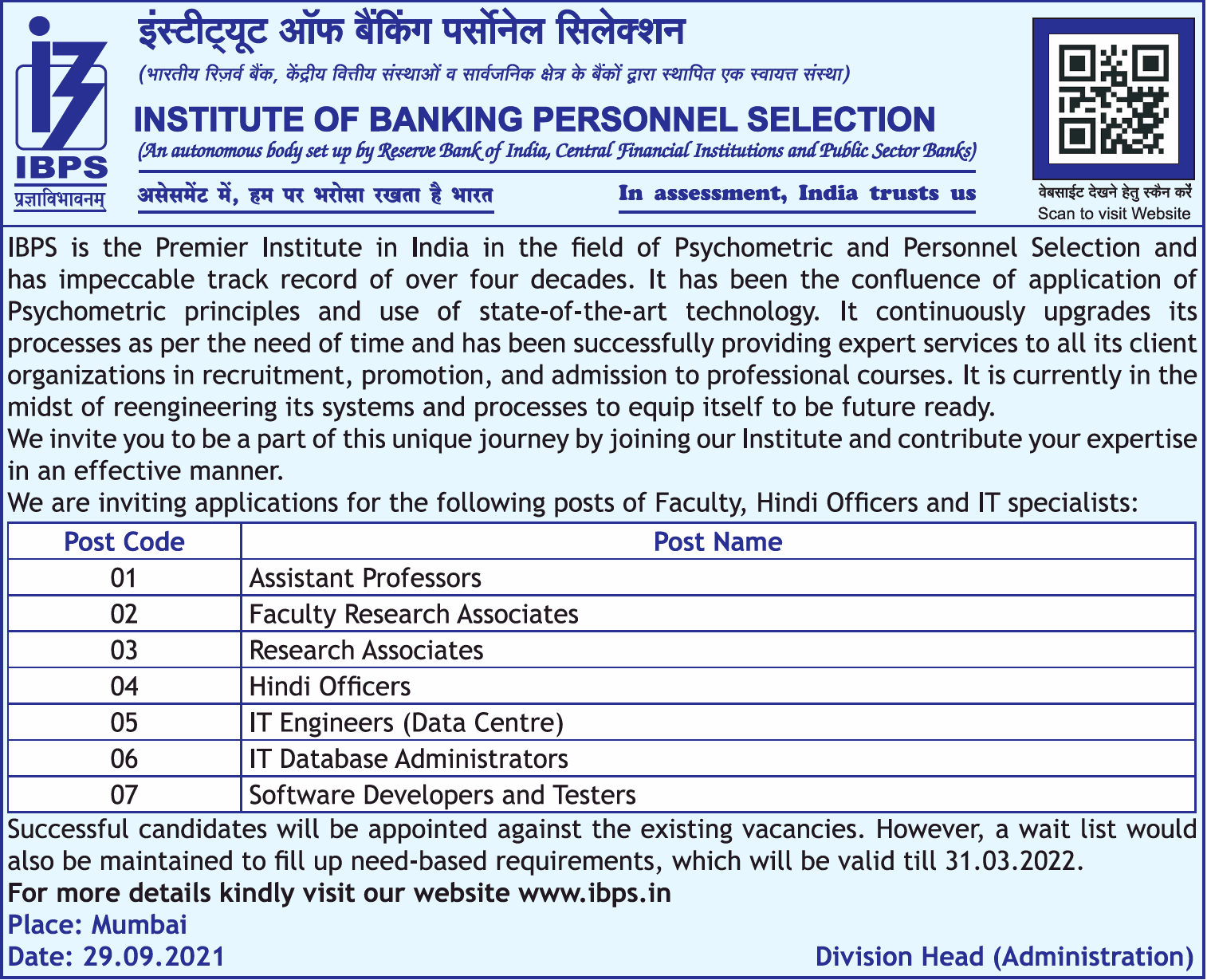 Subscribe our Telegram Channel to get all updates: Join Now!