Had enough of Punnett squares? Scared of the Depth Study? Are you thinking about dropping HSC Biology? 
Before you bite the bullet and drop HSC Biology, make sure you know ALL the right stats and facts! 
We've gone through the NSW public school course enrolment figures and the scaling data from UAC to put together your ultimate fact sheet for HSC Biology! We will cover the percentage of Band 6 achievers, the top ATAR you can score and so much more!
Let's dive in!
What to consider when dropping a subject
But wait! What are the key things you should consider before dropping HSC Biology? 
Will dropping HSC Biology really give you more time to study for your other subjects? 
Is HSC Biology a prerequisite for a university course you want to study?
To help you weigh up the options, check our article on what to consider when dropping a subject here!
Or check out our video on it below!
How many students drop HSC Biology?
Looking at the stats, 26.77% of people who took HSC Biology dropped it between 2019 and 2020. If you total it, that is 3858 students! 
If we look at the historical data across the past 8 years, on average, 27.3% of a cohort taking HSC Biology will eventually drop it. That's around 11 in 40 people.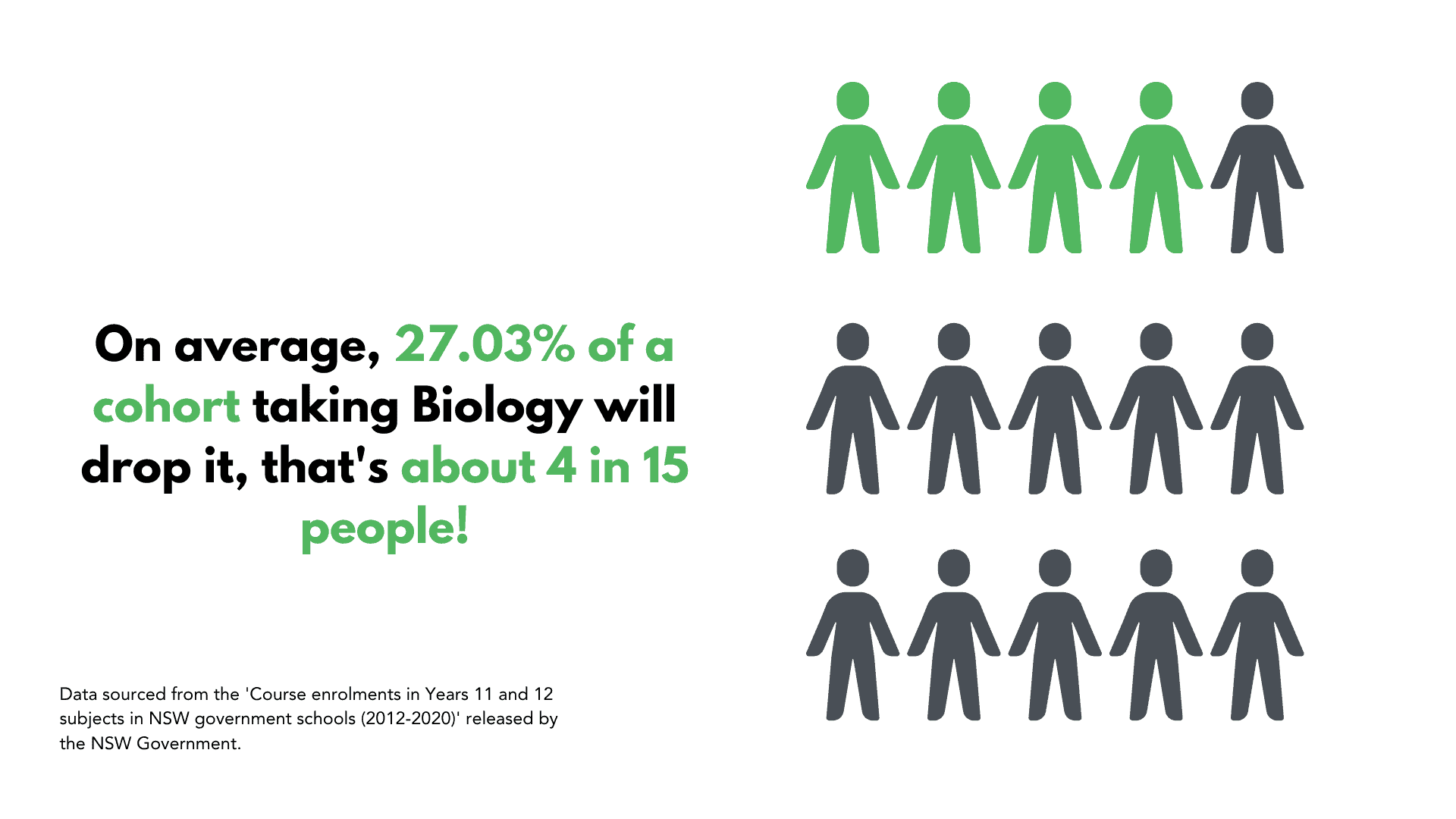 Are more or less people taking HSC Biology?
If we look at the data over the past 8 years, this number of students dropping Biology seems to fluctuate between 26% and 27%.
In 2016, the drop rate was at its highest for Biology, with almost 28.41% of people dropping the subject. This was an entire 2% jump from 2015, where 26.58% of students dropped the subject.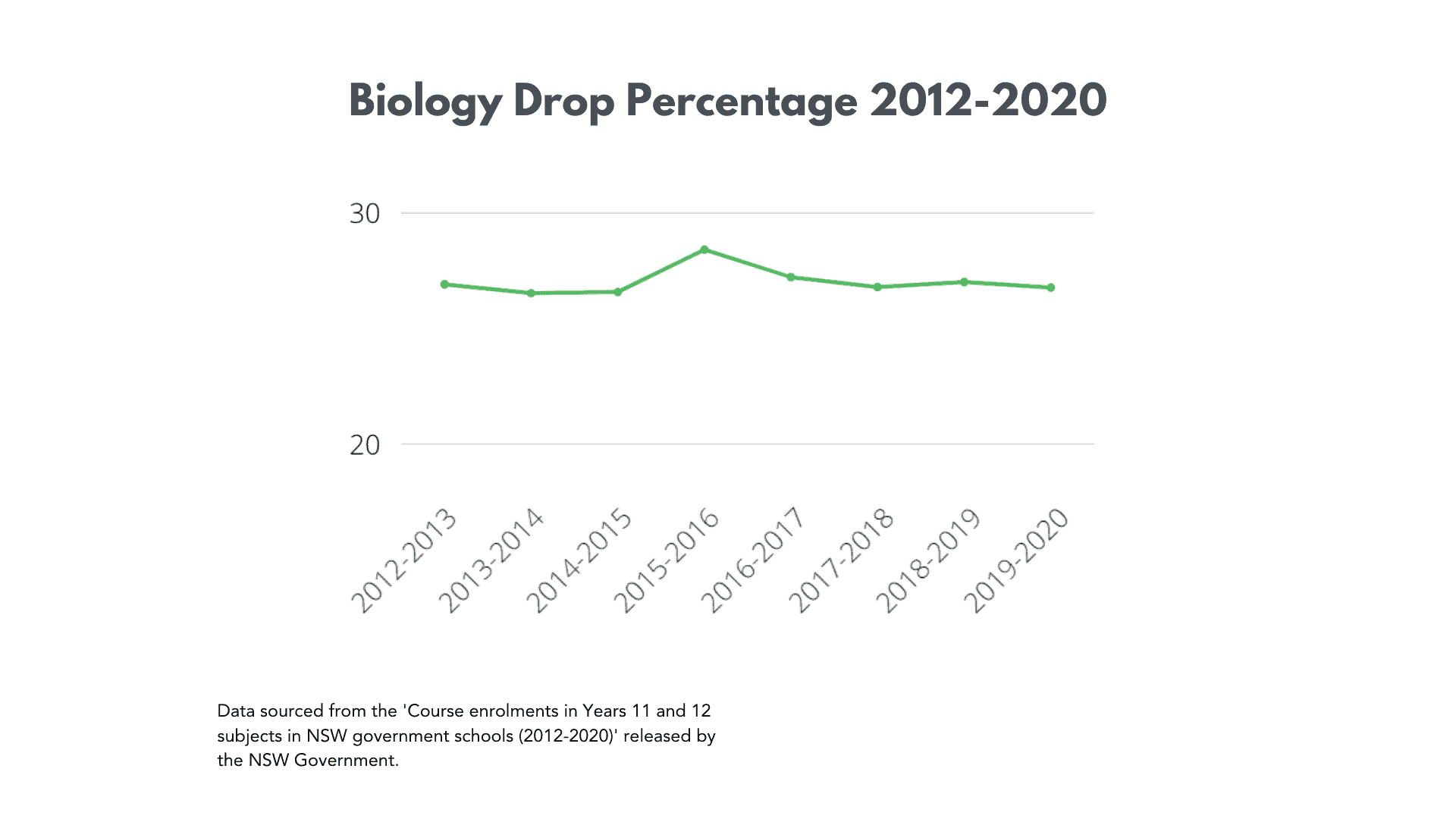 Are more girls or boys dropping HSC Advanced English?
In most subjects there isn't really a big difference between girls and boys drop HSC subjects However, in HSC Biology we see an entire 3% difference. 
On average, 29.11% of boys drop HSC Biology, compared to 25.77% of girls. 
This could suggest that more boys drop to HSC Biology than girls.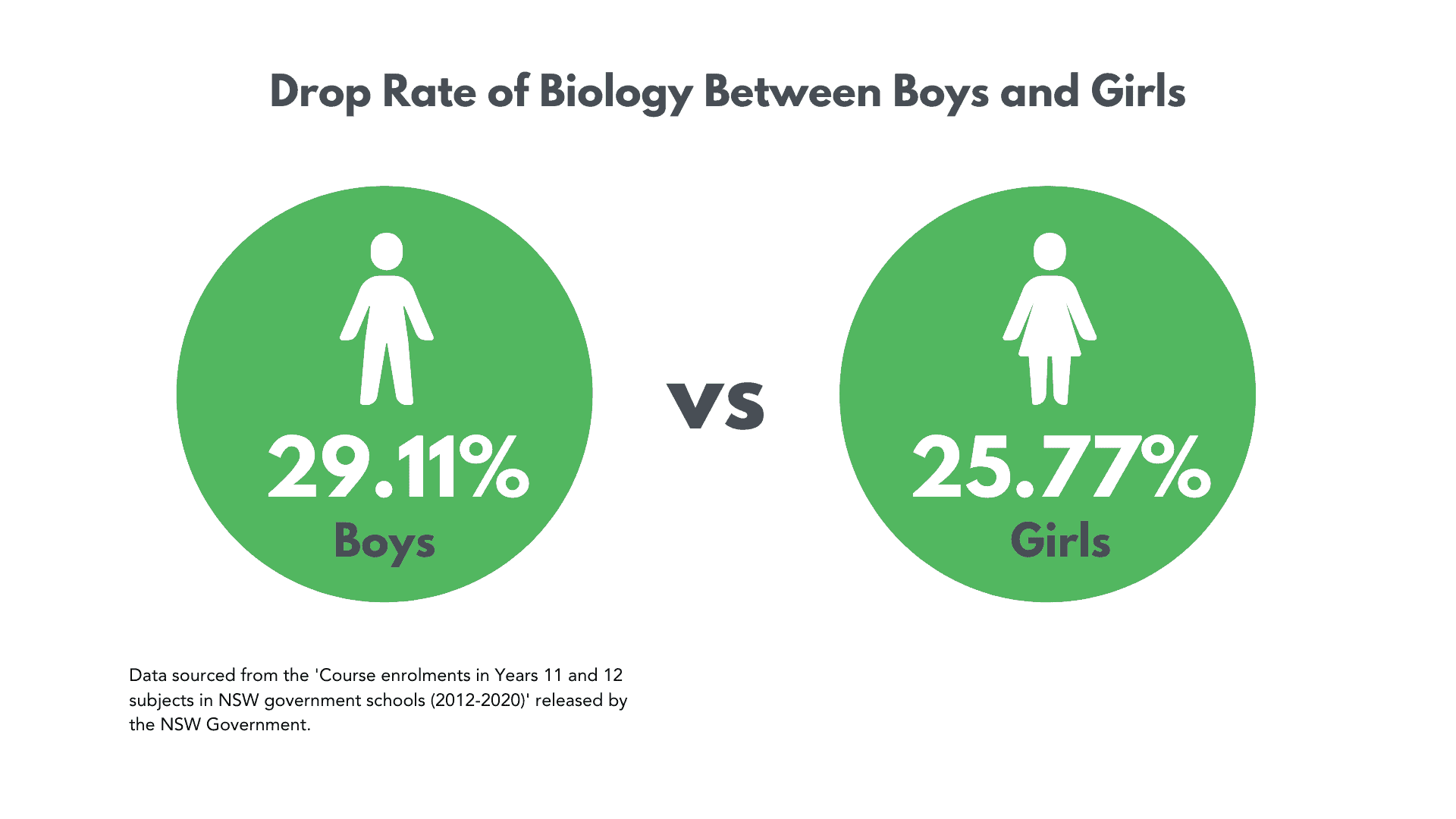 Is HSC Biology a popular subject to drop?
Taking the right HSC Science Subject (if any at all) is often a big question students have when selecting their HSC Subjects. Given the subject's popularity, it is not surprising that HSC Biology is on the top 10 list of the most dropped HSC Subjects (from subjects that have the largest enrolment figures!).
Where does Biology Rank on the popular-subject-drop list?
Well, HSC Biology is the fifth most dropped subject of the subjects with the highest enrolment figures in the entire HSC, with 27.03% of students, on average, dropping it each year!
What's the average mark for people who take HSC Biology compared to HSC Physics and HSC Chemistry?
Biology is often seen as the "easier" HSC Science. But how does it compare to the other popular HSC Sciences?
The average mark for students who've taken biology over the past five years is 74.8, which is a Band 4. (Note that this is an average mark, in the HSC they only give you full marks no .8's etc.!). Between 2016 and 2020, the average mark for Biology has fluctuated between 73 and 76.
But what about Physics and Chemistry? The average mark for Physics is 75, a Band 4 and the average mark for Chemistry is 77.2, also a Band 4.  is 74.8, or a Band 4. And the average mark for physics is 75, also a Band 4. Meaning the average mark for Chemistry, Biology and Physics lies within the Band 4 range.
How likely is it that I'll get a Band 6 in HSC Biology?
So now that we know that the average mark for Biology students is in the Band 4 range at 74.8, what is the likelihood that you will reach that Band 6? Well, across the past five years, 8.80% of students who take HSC Biology achieve a Band 6. That is around 1 in 12 people! 
What about the other Bands?
As the average mark of 74.8 suggests, most of the people receive a Band 4 in HSC Biology, in fact just over 30% of people who take HSC Biology get a Band 4! The next largest Band group is Band 5, with 26% of the cohort. The next largest group is Band 3, with 22% of the cohort. 
You can view the rest of the Bands breakdown below! 
What's the top ATAR I can get with HSC Biology?
For HSC Biology, the highest ATAR achieved for a student taking the subject has always been 99.95. 
99.95 is the highest ATAR you can score with any HSC subject combination. Usually, the highest ATAR in any subject is 99.95 (especially the popular subjects, such as Biology!)
However, a 99.95 ATAR hasn't always been achieved in every subject. For example, looking at some other subjects, such as Armenian, we find that the highest average ATAR is 96.40! 
And that's it for our deep dive into all the stats and facts about HSC Biology. Good luck in making your decision!
Looking for extra help with HSC Biology?
We pride ourselves on our inspirational HSC Biology coaches and mentors!
Whether you decide to stick with HSC Biology or not, our tutors and mentors can help you feel confident in ANY Subject (including Biology)! Learn how to write a Band 6 worthy Depth Study, answer short answer questions and prepare for your exams with 1 on 1 tutoring in your own home, online or at one of our campuses in Hills or Hornsby!
Over the past 10 years, Art of Smart has a proven track record of helping over 8,000 students feel confident and improve their marks by 20.7%!
To find out more and get started with an inspirational tutor and mentor get in touch today! 
Give us a ring on 1300 267 888, email us at [email protected] or check us out on Facebook!