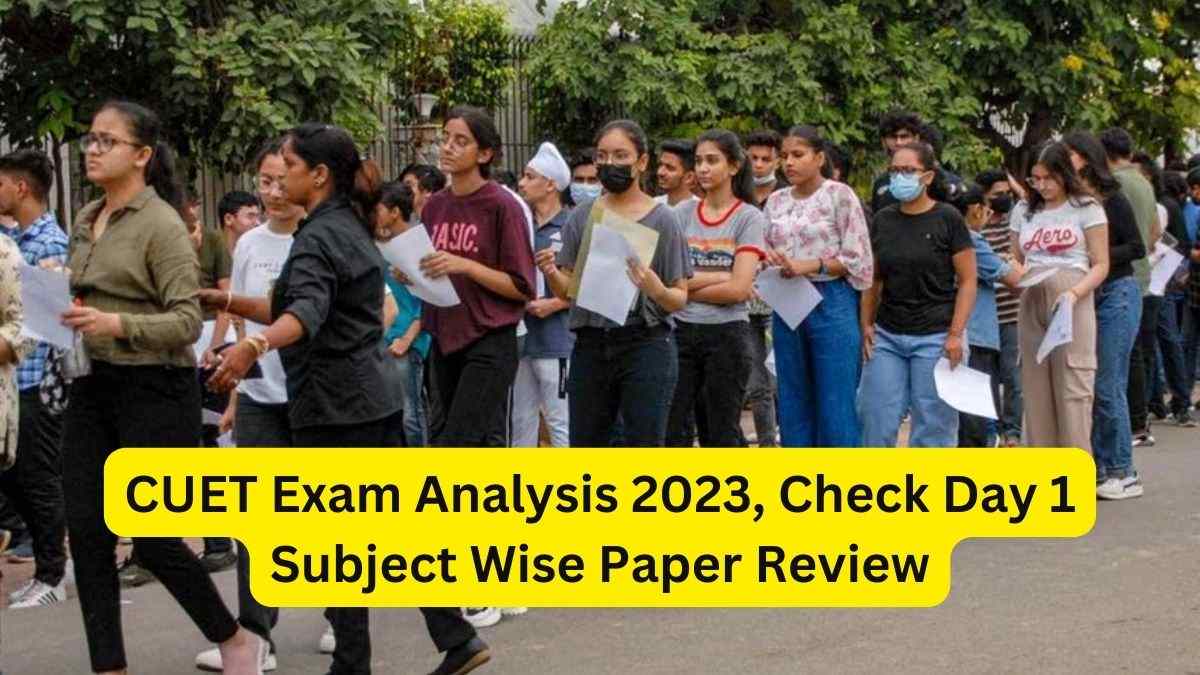 CUET UG 2023 Analysis: NTA conducted CUET UG 2023 day 1 slot 1 exam today on Sunday, May 21 across various centres in the country. Here, candidates can check the exam analysis of CUET Slot 1 for day 1. They will get an idea about the difficulty level of the various sections, subject-wise paper review, and scoring pattern.
CUET UG Exam Analysis 2023: The National Testing Agency (NTA) has commenced the CUET UG 2023 exams from today, May 21, 2023. The CUET exam is scheduled to be conducted for admission into undergraduate programmes until June 6, 2023. The exam will be conducted in three slots. The first slot is scheduled to be conducted from 9 am to 12.15 pm. The candidates who have appeared for the Common University Entrance Test Undergraduate (CUET UG) entrance exam 2023 (slot 1) on Day 1 on Sunday, May 21, 2023, and also those who wish to appear in the upcoming days can check the CUET 2023 exam analysis.
According to the feedback taken from the candidates who appeared for CUET UG 2023 exam, slot 1, the overall difficulty level of the entrance exam was easy as the first slot on day 1 was all about the language and the general test scheduled and students showed a sense of satisfaction following the completion of the exam.
Also Check: CUET Answer Key 2023
Check CUET Exam Date
CUET Exam Timing 2023: Time Table, Slot
Candidates can check the CUET UG exam 2023 timings in the table given below: 
| | |
| --- | --- |
| CUET 2023 Slot | CUET 2023 Timings |
| Slot 1 | 9 AM to 12.15 PM |
| Slot 2 | 3 PM to 6.45 PM |
| Slot 3 | To be announced |
CUET Exam Analysis 2023
Candidates who are looking for the CUET UG 2023 exam analysis can check the analysis shared by the test takers and schools. CUET exam analysis 2023 will also be offered by various coaching institutes to assist all students who have appeared for the exam and those who will take the CUET 2023 exam in the forthcoming shifts. Candidates can use the CUET analysis 2023 as provided by various students and school principals to see if they have a possibility of passing the exam or if they will have to retake it. 
Around 14 lakh applicants registered for the Common University Entrance Test-Undergraduate this year, clocking up a 41% increase against last year. The examination authority will conduct the CUET UG exam 2023 in three slots from May 21 to June 6, 2023, except June 3, and 4, 2023. However, NTA has reserved June 7 and June 8 as buffer days, said UGC Chairman.
To give students some relief, here we have provided CUET UG 2023 exam analysis by Career Launcher.  Check CUET UG Exam Analysis here for Day 1 Shift 1 here –
CUET Exam Analysis 2023 (May 21) by Career Launcher
The analysis of the CUET 2023 exam released by various coaching institutions and school principals is now available. This analysis assists students in analysing the difficulty level of the paper. The CUET UG exam is structured into three sections, each carrying its own significance. Candidates have the choice to select their language and domain subjects in the first two sections. Each question in these sections will have four options. It is not permitted to skip from one section to another, and there are time limits for each portion. 
In this article, candidates will find a comprehensive analysis of each subject, provided by specific coaching institutes. It covers the level of the entrance exam, different question types encountered in the CUET, section-wise analysis, and more.
CUET Exam Analysis 2023: Day 1 Shift 1
According to the first impressions given by students, the CUET UG exam 2023 conducted in Shift 1 was easy to moderate in difficulty level. Students can check the sectional analysis of the CUET UG 2023 exam Day 1 Shift 1 below:
Section I: English
English paper conducted during day 1 and shift 1 of CUET (UG) 2023 was relatively easier. Students had differing views on the level of difficulty, but the majority of them found it easy. It consisted of 15 reading comprehension questions including three passages with five questions each. The passages included a combination of stories and extracts from poems, which were easily understandable. The questions were straightforward, although the options were closely related.
Other major topics in English were fill-in-the-blanks, one-word substitution, and para jumbles, there were 3-4 questions each from both the topics. Other minor topics included antonyms, synonyms, and spelling errors. 
| | |
| --- | --- |
| Topics | Number of Questions |
| Reading Comprehension (3 passages) | 15  questions |
| Synonyms – Antonyms | 4-5 questions |
| Idioms Phrases | 3-4 questions |
| One word Substitution | 3 questions |
Section III: General Test
The General Test that was conducted on the first day of CUET (UG) 2023, during shift 1 was widely considered easy by the students. The questions covered a range of topics including Mathematics & Statistics, General Awareness, Discovery & Invention, Logic & Reasoning, and Sports.
Based on the feedback of the students who appeared for the entrance exam, the questions from the logical reasoning section were easy to attempt. On the shift 1 of the CUET day 1 exam, the questions of the reasoning section were asked from the below-given topics as mentioned in the table:  
| | |
| --- | --- |
| Topics | Number of questions |
| Blood relations | 3 |
| Coading-decoding | 3 |
| Clock | 2 |
| Puzzles | 1 |
| Non-verbal reasoning | 1 |
| Calendar | 4 |
CUET Section-wise Exam Analysis 2023
The CUET exam comprises three sections: language, domain-specific, and general test. Candidates who have appeared for the CUET UG entrance exam 2023 on May 21 can check the section-wise exam analysis in the table given below:
| | |
| --- | --- |
| Section | Analysis  |
| Language Test | Available Soon |
| Option Language Test | Available Soon |
| Domain Specific Test | Available Soon |
| General Test | Available Soon |
CUET UG 2023 Exam Pattern
Candidates can check the detailed CUET exam pattern 2023 mentioned in the table below:
CUET Exam Pattern 2023

Sections

Subjects/ Tests

No. of Questions

To be Attempted

Duration

Section IA

13 Languages

50

40 in each language

45 minutes for each language

Section IB

20 Languages

Section II

27 Domain-specific Subjects

45/50

35/40

45 minutes for each subject

Section III

General Test

60

50

60 minutes
CUET 2023 Marking Scheme
Candidates can check the marking scheme for the CUET UG exam 2023 in the table below:
| | |
| --- | --- |
| Correct answer | +5 marks |
| Incorrect answer | -1 mark |
| No answer | 0 marks |
CUET UG 2023 Highlights
Students can check the highlights of the CUET UG exam 2023 in the table provided below:
| | |
| --- | --- |
| Overview | Specifications |
| Conducting Body | National Testing Agency (NTA) |
| Full Form | Central University Entrance Test (CUET) |
| Examination Name | CUET UG 2023 |
| Exam mode | Online Computer-Based Test (CBT) mode |
| Level of exam | Class 12th |
| Medium of exam | 13 languages |
| Test Pattern | Objective type with Multiple Choice Questions (MCQ) |
| Number of Sections | 4 sections,  (Section IA, IB, II, and III) |
| Marking Scheme | 5 marks for the correct answer, (-1) for each incorrect answer  |
Also Read: CUET Admit Card 2023 Out, Download CUET UG Hall ticket at cuet.samarth.ac.in